Welcome!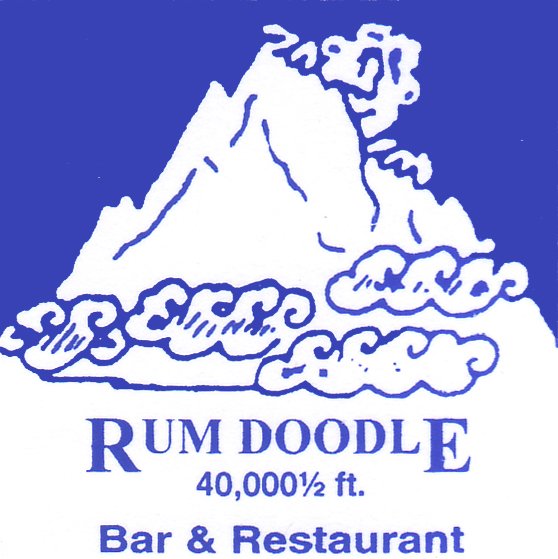 The Rum Doodle
Run Doodle, at 40,000 ½ feet, is the highest mountain in the world. Conquered trough the courage, bravery and skill of a handful of eccentric English mountaineers, with equally eccentric names – Ridley, Prone, Constant, Jungle, Shute and Wish. Rum Doodle stands as a heroic monument to mountaineering-despite the seditious efforts of the expedition's Yogistani cook "Pong".
Since 1979, The Rum Doodle, its 40,000 ½ ft. Bar and Restaurant have been a Kathmandu dining landmark. Although, originally opened in Kathmandu's tourist district of Thamel, the earthquakes of April and May 2016 precipitated a move to Kathmandu's new business district of Naxal.
Read More
The Footprints
As soon as you walk in you will notice them. Large white footprint cutouts with names, love songs, and the occasional swear words. Look closer. These were left by travelers, much like you, who visited the Rum Doodle and left their mark and advise for those that come after them, These footprints have been collected over a period of more than three decades and speak volumes. In fact, each footprint has a story to tell.
The Everest Summitteers Club
Square wooden boxes filled with signatures adorn one whole wall. This wall is, to the climbing community, what the "Hollywood Walk of Fame" is to the acting community. This "Wall of Fame" bears testimony to and is a tribute to those select heroes of mountaineering – that select club of Everest Summiteers. Started many years ago around the autograph of Sir Ed. Hillary, the numbers have grown to include Uemura, Messner, Tabei, Ang Rita, Hall, Ball, Viestures and Hinkes among 600 + others to form the largest collection of Everest Summiteers' signatures in the world.
Read More